Youth Ministry
First we would like to welcome our new Youth Pastor Daniel Meador!
He has already begun to reach out and get involved in the Coquille youth community.
Please check back periodically for future events and activities.
The C4 Youth Group Exists To:
Establish Value and Purpose in Teens
Deepen Student Knowledge of God
& Equip Students to Impact the World
Ages 6th grade – Highschool
Come join us every Sunday night @530pm
downstairs in the fellowship center.
Click here to see some of the past events!!!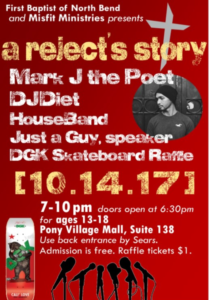 We must show the youth we are doing this for one reason and its simply because Jesus dies for them and we love them. No matter how much they feel pushed aside, rejected and labeled as bad, a punk, a misfit, or useless in or to society.
The event is led and managed by The First Baptist of North Bend youth team, Pastor John Richardson, and Darrell Donhoff, and with the help and sponsorship of other local churches.
raffle tickets and souvenirs.

Join the C4 Youth Group at Winter Jam!
We will be leaving Friday November 17th @ 12pm and return home Saturday November 18th @ TBA
Please be advised this event is on a Friday and you will miss a day of school. Please get permission for this.